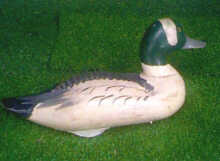 7,000 Mile Cross Country Trip, 27 years.
by Nick Erway
It's only a piece of wood. But, what a story it could tell!!
I received an email back in August from a good friend in Coos Bay, OR. He knew a fellow that was selling some old Decoys that he has owned for quite a few years. There was several that he was interested in. Most of them were too expensive for his budget, and mine too for that matter. One of these decoys was supposed to have been made by Madison Mitchell. There was no signature, just that the fellow who owned it, said he had purchased it in the midwest some years before, he was told then that it was made by Mr. Mitchell.
Being from the West Coast and, although not unfamiliar with the name, he really didn't know for sure to look at it if it was authentic. I said I was going down to Havre de Grace soon, if he was to send it to me, I would see if I could get it identified for him. "I was hoping you would say that", he said and sent it to me.
I went down to Havre de Grace as planned.
First stop, Captain Harry Jobes. Cap'n Harry worked for Madison Mitchell for 28 years, he made many of the decoys that Mr. Mitchell painted. I figured he would know if anyone would. "Nope" he said, "I don't know who made this decoy. It definitely is not a Mitchell Decoy." It was made from the area, the same style, but didn't have a clue who may have made it.
Next stop, Captain Bob Jobes. Cap'n Harry's oldest son whom also had worked for Madison Mitchell and is very knowledgeable in decoys from the area. Bobby looked at it while painting some Canvasback Drake lead decoy paperweights. "Nope, this decoy is not a Mitchell, the body is a Mitchell, the head is a Mitchell, but it is not a Mitchell" and continued to paint. After a few minutes, he put the paint brush down and asked to see the decoy again. This time a look came over him. "I know who made this decoy!!!"
Here is the story as it was told to me by Capt. Bob:
"As we ran blocks of wood on the lathe for bodies we would get a bad one once in awhile. These bad ones got thrown out the front door into a pile under a little Pine Tree. You would get one with a bad split, big knot or whatever that made it bad for a good decoy. This pile under the little Pine Tree would get to be 50 or so bodies and someone would come along and take them. Anyone could have them. They were no good to Mitchell, anyone could come along and take them away. Sometimes I would put some out there that weren't too awful bad, I figured I was going to get them myself. Then darned if Uncle John, or someone else would come along and get them just before me.
I did get some each year though and made decoys for myself to use. I'd make up about 40 or so. That year I must have thought I was gonna shoot a mess of Buffleheads. I would fix them up, patch the holes and knots, and paint them up like Mr. Mitchell. I could put them together at the shop and paint them, had to buy the nails though, they cost him money.
Us kids would make these decoys for ourselves, hunt with them, and then after hunting season we would trade them to "Mitchell's Sporting Goods Store", not the same Mitchell. They would line them up on the floor and sell them to customers. We could trade them for a couple of dollars and get anything we wanted, Knives and stuff. It was a great way to buy stuff at the Sporting Goods Store and we learned to paint decoys. I always wondered what happened to all those ducks."
So here in the picture above, is a decoy that was made 27 years ago by then, 13 year old, Bob Jobes, in the back of Madison Mitchells Decoy shop, in Havre de Grace, MD. It was hunted over in the area of the present location of the Havre de Grace Decoy Museum. Traded for merchandise in the now closed Mitchells Sporting Goods Store, nearly across the street from Bob's current home. Was purchased from a customer of the store and somehow ended up in the midwest of the country. Then was purchased by the fellow in Coos Bay, OR, who sold it to my friend Howard, in Coos Bay, OR, who sent it to me to take back to Havre de Grace, MD and it found it's way back to its original maker, Captain Bob Jobes. A journey of at least 7,000 miles and now is in PA.
Click on this decoy above, and you will be taken to a picture of Captain Bob holding this decoy that he made so long ago. You can see the pride in his face, he was quite pleased to see this decoy. It was going back to Oregon, but arrangements are being made and it will soon belong again to it's maker, Captain Bob Jobes. Back home in Havre de Grace, the Decoy Capital of the World.
Editors note
If you have an interesting story, please send it in to share with all of us.