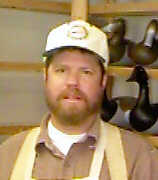 Joey Jobes
Written by Nick Erway, editor!!
Click for a larger picture!


It was a beautiful day in November 1999. I was making a trip down to MD to visit the Jobes family and pick up some more decoys. Unseasonably warm for November. It is in the upper 60's and a nice sunny day. Along the way I see several large flocks of Canada Geese feeding in cornfields that have recently been harvested. These were very large flocks and seemed quite happy in the warm sunshine.

I

arrived at Joey Jobe's shop around lunchtime. Joey's Decoy shop is in a two story converted garage in the back of his home. I know when he is there by his Pick-up parked on the side. There are no signs outside to identify the shop. Just some barrels, a boat, and some assorted odds and ends laying around on the ground and on some beat up racks. Some fish floats and baskets around and looks more like a fishing shop.

U

pon entering Joeys' shop, you wouldn't know anyone was there. You first enter into the shop in the woodworking part of the shop. Drills, sanders, drawknives, saws and hammers and blocks of wood all around with a light covering of sawdust on most everything. There is some light but usually somewhat dark, most of the lights are kept off, there are no windows on the ground floor. The finishing and paint room is upstairs over this part of the shop, well lit with nice large windows on the east and north side. You can generally hear the radio playing and know that Joey is there. As I open the door at the bottom of the stairs I was met with the strong smell of Mineral Spirits. Whew, it was very noticeable and unusually strong. Not like the general odor of paint I am accustomed to, such as when you paint the walls or ceiling in your home. The ever-present odor of paint and wood, a smell that is so common with the woodworking arts. I have learned to appreciate the smell and know it well.

A

s I get upstairs, I find that Joey is cleaning up his paintbrushes. No wonder the strong smell of mineral spirits. There must have been at least 20 or more paintbrushes lying out in front of him on the paint table. All the brushes were different in shape and length of bristles. Some are flat, some are curved and some are round, large and small. One by one Joey worked them into the spirits and cleaned and swabbed them all on paper towels and put them aside to dry. These are the tools of an artist. Not just paintbrushes, but the perfect finishing tools of a "Master" craftsman. To make the right lines and get the desired textures, the brush has to be trimmed and adjusted to make the paintbrush do it's work. In order to get the best patterns and textures, the paint must be applied with just the right tool as well as a perfected, practiced touch. Some of these brushes have been trimmed to a specific shape, made to do a perfect design or feather pattern for just one type of decoy. It takes years to develop the artistic talent for painting these beautiful birds. It looks so easy and simple to watch as the various patterns are applied so effortlessly. The right brush makes all the difference and once it is perfect, you just don't let it dry up and become hard and ruined. These tools are like the scalpels of the surgeon. Works of art are made from these simple tools of wood, metal and hairs. They must be carefully taken care of in order to be ready for the next time.

J

oey had just finished up the last details of a nice variety of gunning decoys to take to a show. This was the day before the beginning of the Decoy Show down in Easton, MD. On the racks were a beautiful bunch of decoys. Two walls covered with these works of art. There was full size Loons and half size Loons. Extra large oversize White Wing Scoters in their beautiful glossy black coats. Pintails and Swans and Geese and Brants along with Ring Neck Ducks and Canvasbacks. A great display of Waterfowl that I have come to anticipate when I walk into a decoy carvers shop. I just look around in awe and envy of the talent that is needed to make such symmetry and natural beauty. These birds look as though they could move and just leap into life.

J

oey Jobes is the youngest of three sons of Captain Harry R. Jobes, a respected and very well known local Waterman and Decoy Carver of the area. Growing up in Havre de Grace, Md. and being around the water all the time was the life Joey loved. He loved the water and everything he could do to be in and around it. Joey told me "when I was 13, I fished and crabbed and I even had my own boat. I could go out and lay a net anywhere anyplace anytime and catch fish. Now, it's very restricted." He said "I have led a very sheltered life. Fish and hunt and crab and make ducks. I've never had a job anywhere in my life."

J

oey started helping out in his dads decoy shop, at an early age. With their dad being a Waterman and Decoy Maker it was just part of growing up and helping out. As you played in the shop and usually got in trouble from time to time, you start helping out with one thing and then another. You would so something that looked like fun. Then try to make something. Whittle heads and sanding them. From one part of the process to the other, after awhile, you could make the ducks and learned the way to do each part of the art.

I

t was in 1976 that Joey started making decoys on his own. Making gunning decoys for himself and his friends. Used to fish and Crab during the days and make decoys at night. "Time was that I couldn't afford air conditioning. Too hot to paint in the days, so I used to paint at night when it was cooler." Worked in the shop upstairs when he could. Now, with the upstairs air conditioned, it is pleasant year round.

Y

ou won't get any decoys made in the summer from Joey. Summer is for fishing and crabbing. From late May to early September, Joey is still to be found commercial crabbing most of the summer, making a good part of his income from the Bay. Joey starts out early in the morning, usually about 3 AM to go out and set out his Trot line for crabs. Lay out about a half to three quarters of a mile of line with chicken necks tied on at regular intervals. You start at one end of the line, work the line up and over a wheel and go to the other end of the line, netting up the crabs as they come up to the surface, when you get to the end, you go back and start over. A good day will produce 10 to 12 bushel of legal size crabs. When the Rockfish are plentiful, Joey still fishes for them and adds the sales to his varied income.

J

oey is an avid waterfowl hunter and made all his decoys for the love of the sport. In the fall he lived and breathed duck and Goose hunting. It gets into you and it becomes a passion of life. "I used to have a license in 6 states." Joey told me. The east coast and the Chesapeake Bay area are a great place to find the ducks of this passion. There are so many species that inhabit the area from one season to another. After time you become familiar with the beauty of the birds and develop an eye for the individual ducks.

J

oey now specializes in making collectible decoys. Certainly making decoys to be used for hunting as well. Joey is very artistic in his detailing and uses vivid colors in his decoys. There still is a strong underlying influence of the Madison Mitchell style decoy that is so prevalent of the area. The style is so beautiful and artistic. With a special flair, Joey makes the full line of decoys of the area, about 28 species in all. A little more curvy and a slightly different style than the others in the area. This is some of the differences sets Joey's decoys apart from the others and his family. Many of the birds are a little fuller in width and bolder in his use of color.

J

oey has his regular customers and carves for about three of the bigger Decoy shows each year, a member of the local "Madison Mitchell Chapter" of Ducks Unlimited. Joey has made decoys for many other Chapters of Ducks Unlimited and other Wildfowl groups. It is not always easy to find Joey in his shop. Joey has a daughter named Alicen. When questioning the spelling, Joey told me "My moms name was Alice. I just added an "N" to my moms name for Alicen." Joey still lives in the same area that he grew up and makes a living from the Bay.

T

ruly a fine Waterman and Decoy Maker.