Body Booting with Captain Bob Jobes on the Susquehanna Flats, Havre de Grace MD.
January 8th and 9th 2002
written by Nick Erway of Riverside Retreat
Canada Goose Season has been closed in MD for 5 years due to the low population of migrant Canada Geese. This year there has been a return to Goose hunting with a one day limit of one bird per hunter. I was pleased to have been invited to come along on a hunt with my friend Bob Jobes of Havre de Grace, MD. A renowned Decoy Carver and my gracious host. His brother Charles Jobes, also a renowned Decoy Carver, was hunting with us as a group of 6.
If you position your pointer in a part of the pictures, a short explanation will be visible on the bottom of your browser. You may need to click on "View" and select "Status Bar" in your browser.
The weather was quite mild for January and the lack of ice on the water was more than welcome to me. We are wearing Survival suits which most were painted black to help blend in with the decoys. Most important for safety is we are being watched by two dry hunters in boats at anchor about 300 yards away. Any time there is a problem or help is needed with cripples or for any reason the chase boats can be right there quickly. Safety is a must and it is especially important with this type of hunting when you are up to a mile from the nearest shoreline and standing in water that is very cold.
We went out in early afternoon on the first day. We ran out several miles to the selected hunting location. On the way out four of us got ourselves stuffed into the thick neoprene rubber survival suits. I didn't take long to begin to work up a sweat inside these bulky suits. The tide was real low and we knew we arrived at our hunting location when we ran aground on a sand bar out in the middle of the Flats. I was told to jump in and hesitantly - questioning my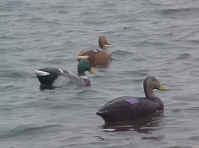 Charles Jobes Duck Decoys on the edge of the Goose Decoys.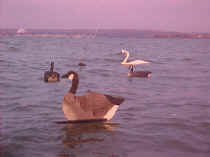 Captain Harry Jobes Swan, Havre de Grace in the distant background.
virtual sanity, I did just that and found myself knee deep in the cold water. Although I must admit, with the survival suits on you didn't really notice the cold and soon you learned to get around in the knee deep water pretty good. At this point S.R and I became tow motors and started walking the boats around in the water as Bob Jobes in one boat and Merle in the other boat started putting the frames overboard in a long line. Then we came around the outside several times with the full body goose decoys making our large spread of roughly 200 decoys. Charles Jobes, in his boat, was setting out his boat full of goose decoys and 20 or 30 Duck decoys were placed on the ends along with a Captain Harry Jobes Swan just recently completed.
With all the decoys set out, we placed the "Stickups" in a line down through the middle of the decoy spread. "Stickups" are the Silhouette's of a Goose to which has been mounted a gun rack and small box on the backside. Two pipes are used in making the supporting pole in order to be able to raise them as the tide comes in. Again, care was used in the placement of these in order to try to make it possible for us to have the best shooting opportunity and reduce the chance of being in each others way. The box on the backside is to keep shells, gloves or in my case, a tape recorder and camera out of the water. Although when the wind was up, it was not unusual for a wave to hit and splash water all over and into your face. It was real nice to have a spare pair of dry gloves in a plastic bag too. The survival suits do not have pockets and even if they did they would be full of water. Now the four of us hunters took our positions at the "Stickup" and the boats backed off about 300 yards as the anticipation grows.
It didn't take long and there were ducks and Geese flying over and around us. The ducks were not overly interested in dropping in for a visit. We'd call at them anyway and practice getting down low in the water behind the "Stickup". You had to duck down on your knees to keep your head as low as possible in order to not scare off the incoming birds. As we called to the Geese they were more interested and would come in. Some landed out of range and just sat there watching. It didn't take too long and a small group of Geese came in and nearly landed on top of us on the end I was on. I tried to shoot under the neck and head of the "Stickup" but as I picked up my gun and let go of the "Stickup" the wind blew it around right into my face and caused me to miss. It was exciting though and the hunter next to me got one of these Geese. Not too long after that there was one high flying Goose that seemed to take interest to our spread. It circled around several times as it started coming in and was getting lower and lower. All of a sudden Bobby yelled "Behind you guys" and the shooting commenced. I was still watching the high flyer coming down and there was a group of 6 that almost landed on top of us that came in behind us. Bob got one of them as they pulled up and started away.
Maybe a half an hour later there was a Goose that did come in behind us and landed right in the decoys between Bob Jobes and S.R. on the other end. Bob couldn't shoot he had his limit, the Goose took off as S.R jumped up and emptied his gun, he missed with his shots and as the Goose came a little my way I took a couple shots and got him as I bagged my first Goose of the trip. If you listen closely you can faintly hear Bob Jobes say "get him, get him, GET HIM" in the beginning and then in the end "he's down". Now it was all worthwhile. I got my first Body Booting bird. Of course you can't have a dog out there in the water so you have to do your own retrieves. It seemed that as you were slowly wading out to get your bird, others would come flying in so you would have to duck down up to your neck in the water to look like a Goose and not spook the incoming birds off.
Dark approached and the shooting time was over we started the tedious task of picking up all the decoys, frames and "Stickups". Now you do start to warm back up as you start dragging the boats around but it is still cold on the hands. Once loaded up we were about an hour back into the marina and were met by Captain Harry Jobes at the docks. Joey Jobes was out near us and they had already come in with their limit of Geese. Unloading the necessary stuff and our survival suits along with all the layers of clothes so we could hang them up overnight to dry and get some good hot food and coffee. We didn't quite get our limit that afternoon but did get three geese and Bobby shot a Mallard.
The following morning came early as we met back down at the dock well before dawn. Luckily it had warmed up overnight some and was not too cold. We loaded back up and went out in the dark to a slightly different location. Setting up in the twilight we were ready to go as it got light out. Back into the boats and suits we went.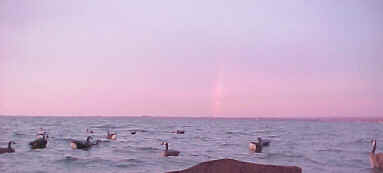 Rainbow in the early morning over Havre de Grace

Today here seemed to be some nasty weather coming in from west of us. It was clear in the east and this caused a rainbow that stood over Havre de Grace for quite awhile. As the weather approached us we became engulfed in Sleet and Freezing rain. It really wasn't too bad. At least the sleet bounced off the survival suits. Again the ducks didn't seem to be too interested in our spread of decoys but a few did venture in. Charles Jobes was suited up today and he got two Drake Mallards. We saw some Ringnecks both days but never got a good shot at any of them and also saw some Gadwall with out any good opportunities for them either. Many Mergansers would fly over and go by. This morning the Geese were flying all around and over us. We were only out about two hours when we bagged our limit and all had our Geese. The Geese seem to spend their nights in relative safety out in the Susquehanna Flats and then return to the shore and fields during the daytime to feed.

This day we had a Swan come into our decoys. It flew around and circled us several times before landing maybe 100 yards out to the east of us. We called in the boats and loaded back up for the trip back to shore and some nice hot coffee and solid land.

"Body Booting" in the Chesapeake Bay is great fun and many thanks go out to the Jobes family for their gracious hospitality and generous friendship shown to me. A wonderful family and fantastic decoy carvers.

Written by Nick Erway
All photos Copyright Riverside Retreat

Please note that the Jobes family members are not a licensed Charter service of any sort
and as such do not accept calls or take groups out for a fee. Please don't call them
to have them take you out hunting. Above all please respect their privacy.

There is also a nice article in the Nov./Dec. 2001 DU magazine on page 69 about "Body Booting".