Offering 2 Sizes of Plastic Decoy Stands.
I offer a one time flat rate for all your stands. Follow the directions below.
One Flat Rate shipping cost of $6.95 per order.
This allows you to save on the shipping cost.

Same flat shipping rate per order.

One stand or 100 stands all for one Flat Shipping rate of $6.95
NOTE!! If you don't add the shipping when order placed, I will email and send 1 Paypal request for the shipping. If still not paid with-in 2 days I will reimburse the monies received through paypal LESS a $4.00 service charge for time spent and fees incurred by Paypal for the transactions of money received and money refunded.
Select the size decoy stand you want to order. Click on the Add to Cart Button. This will put the selection in a shopping cart.
Your shopping cart will open in a new window and you can update or change the number of stands that you need to order.
Shipping is a Flat Rate of 6.95 per order.
Only one shipping rate per order.
You must add this one time to receive your order.
Click on the "Add Shipping" button to add the shipping!
The small decoy stands are $3.00 each
I only have 2 left.

3 3/8 inches long

2 1/2 inches wide

pegs 1 1/4 inches tall

Standard stand for most regular full size decoys.

The large decoy stands are $4.00 each

4 1/4 inches long

3 1/2 inches wide

pegs 1 1/2 inches tall

This stand is used for the larger decoys such as Loons, Geese and Brants.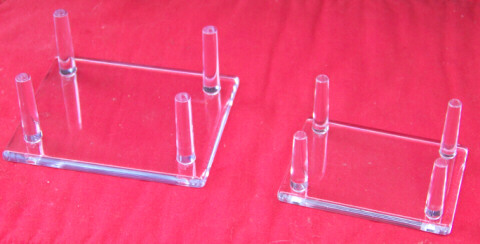 Bumper Stickers - Stick on bumper or window.
3 inches by 10 inches!

$3.50 each including Shipping.
$3.50 each
Shipping Included
This site built by Nick of Riverside Retreat